I love books. I buy, collect, sort, review and, of course, read them. Bookshops are always on my list of things to see in a new place. So no wonder I wandered through Berlin and checked most of the bookshops out. The German capital is a great place for readers. There are bookshops for all your needs. Do you need art books? Go to Bücherbogen am Savignyplatz. Do you need a nordic book? Go to Pankebuch. Do you want coffee table books? Go to Do You Read Me?!. The possibilities are endless.
The shops I like the most are the cosy ones. The ones with nooks and corners; bookshelves high and higher. The ones with stacks of books I want to devour.
I found ten cosy and book lover friendly shops with a wide range of English books. So do not worry if you're not able to speak German (even though it's a great language for literature).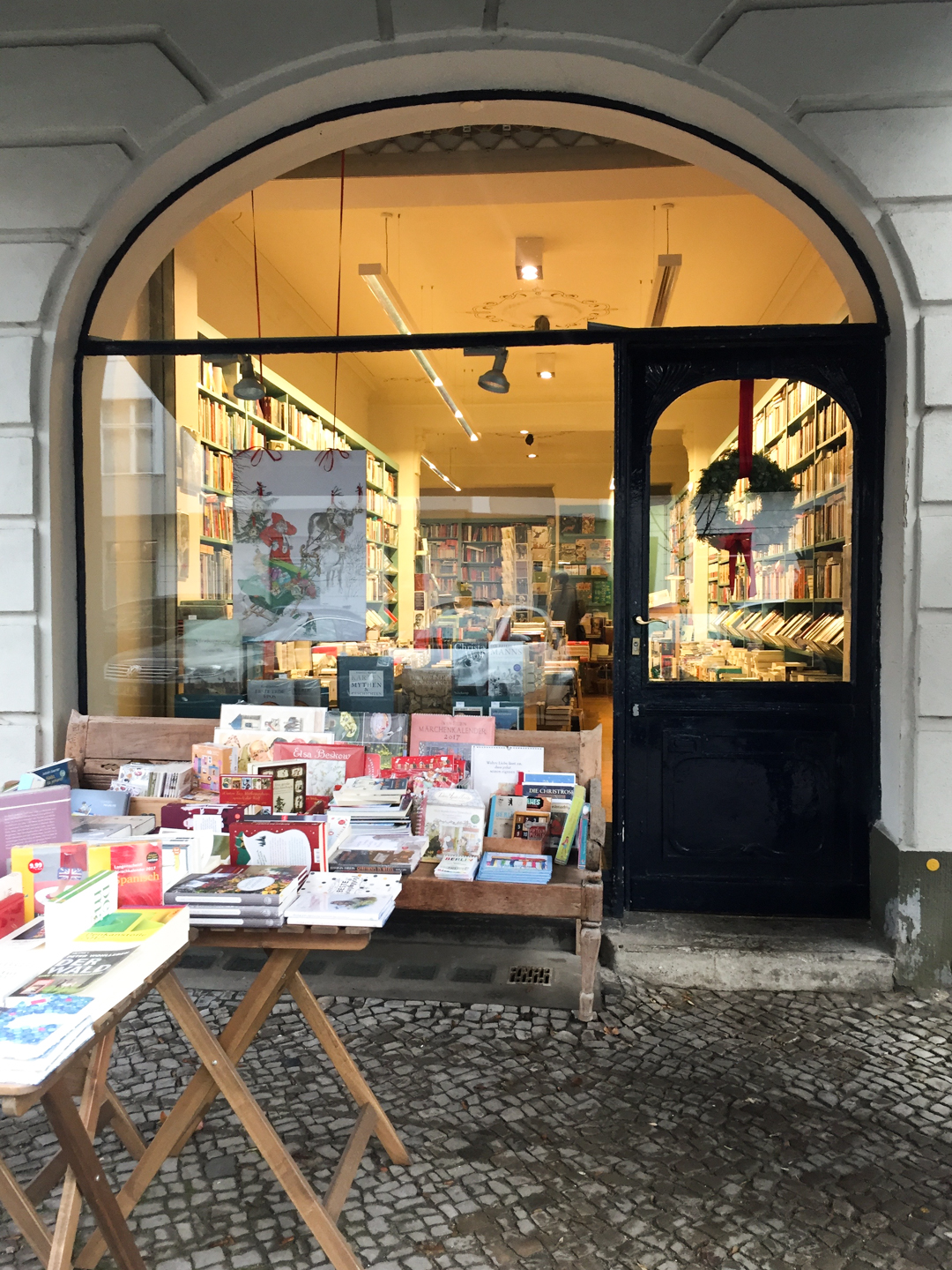 1. St. George's
Wörther Str. 27, Prenzlauer Berg
used and new books, English only
It's just one of those shops you enter and immediately fall in love. There are so many shelves, so many books to discover. There's, obligatory, the ladder to give you a real bookish experience. They have a great assortment of critical books and a nice nook for children's classic.
2. Berliner Büchertisch
Gneisenaustraße 7a, Kreuzberg
used books, English and German
The shop does a lot of charity and supports children, schools and kindergartens with their sold books. So shopping for a good cause!
It's like entering a flat full of books. There's even a children's room. You can find some good niche books. I cannot count how many books I hauled…
 3. Pequod Books
Selchower Str. 33, Neukölln
used books in over 15 languages
Are you looking for a book in Turkish, Danish, Spanish or Dutch? You'll find a good selection at Pequod Books in Neukölln. The two rooms are well organised and you'll find some real treasures. It's also a great shop if you're picking up a new language and want to save some money.
 4. Curious Fox
Flughafenstraße 22, Neukölln
used and new books, English only
Curious Fox is for everyone who loves books. The rooms are full of books, there are a few very comfy seats to dive into the stories. Get yourself a cup of tea and enjoy all the bookish things.
I especially recommend the non-fiction section.
5. Dussmann
Friedrichstraße 90, Mitte
new books, English only
Another English bookshop, Dussmann has a wonderful ambience with a lot of beautiful books. They sell classics in the most outrageous editions, it's so much fun to browse and re-discover long forgotten treasures.
Don't ask my friends how often I dragged them into the shop and showed them books over books.
 6. Café Tasso
Frankfurter Allee 11, Friedrichshain
used books, English, German and other
Café Tasso is located at Frankfurter Allee, a street with impressive architecture. The café itself is less impressive, but very cosy, inviting and the staff is beyond friendly. Grab a coffee, one of the vegan treats and start reading.
Every book costs 1,50 Euro. 1,50 Euro!
 7. Dante Connection
Oranienstr. 165 a, Kreuzberg
new books, Italian and German
Dante Connection is a nice place for everyone who has a soft spot for Italy and the Italian language. They sell audiobooks, cookbooks, novels and more. The small shop is lovely and you feel how thoroughly selected the books are.
 8. Marga Schoeller Bookshop
Knesebeckstraße 33, Wilmersdorf
new books, English and German
Marga Schoeller is a big shop with lots of different sections and each one has its own charm. It's very inviting and you will need quite some time to see everything. The first time I've been there they displayed one of my favourite new-release, Gemina by Amie Kaufman and Jay Kristoff, of 2016, so I might be a bit biased, but the shop is amazing. They even have a little dog who lays on a pillow between the cook books, too cute!
 9. Miss Marple
Weimarer Str. 17, Wilmersdorf
new books, English and German
Miss Marple specialises in crime books. The books are sorted in places the stories take place in. So are you looking for a classic crime, located in Austria? No problem.
 10. Ocelot Bookstore
Brunnenstraße 181, Mitte
new books, English and German
Ocelot offers inspiring and thought-provoking books. The café-shop is rather chic, but yet homely. The staff is not importunate what I always like.
This list is in no particular order.
Read more about Berlin
VIDEO: LEAVING BERLIN FOR A SUMMER BREAK
DAY TRIP FROM BERLIN: THE CASTLE OF RHEINSBERG
BERLIN HOT SPOT: EATING AT GUSTAV & GOLD
20 MUST-SEES FOR YOUR FIRST TIME IN BERLIN
TASTY THINGS TO TRY IN BERLIN
Where do you like to shop books? Do you have a favourite shop, worldwide?