Kampung Baru is the Muslim quarter of Kuala Lumpur. Located in the centre of the city you reach it rather quickly. And then everything slows down. Life in Kampung Baru tends to be quieter, more traditional.
To learn more about culture and people you can book a free tour like I did. And I highly recommend this experience. 
Jalan – Jalan @ Kampong Bharu Tour Guided Walk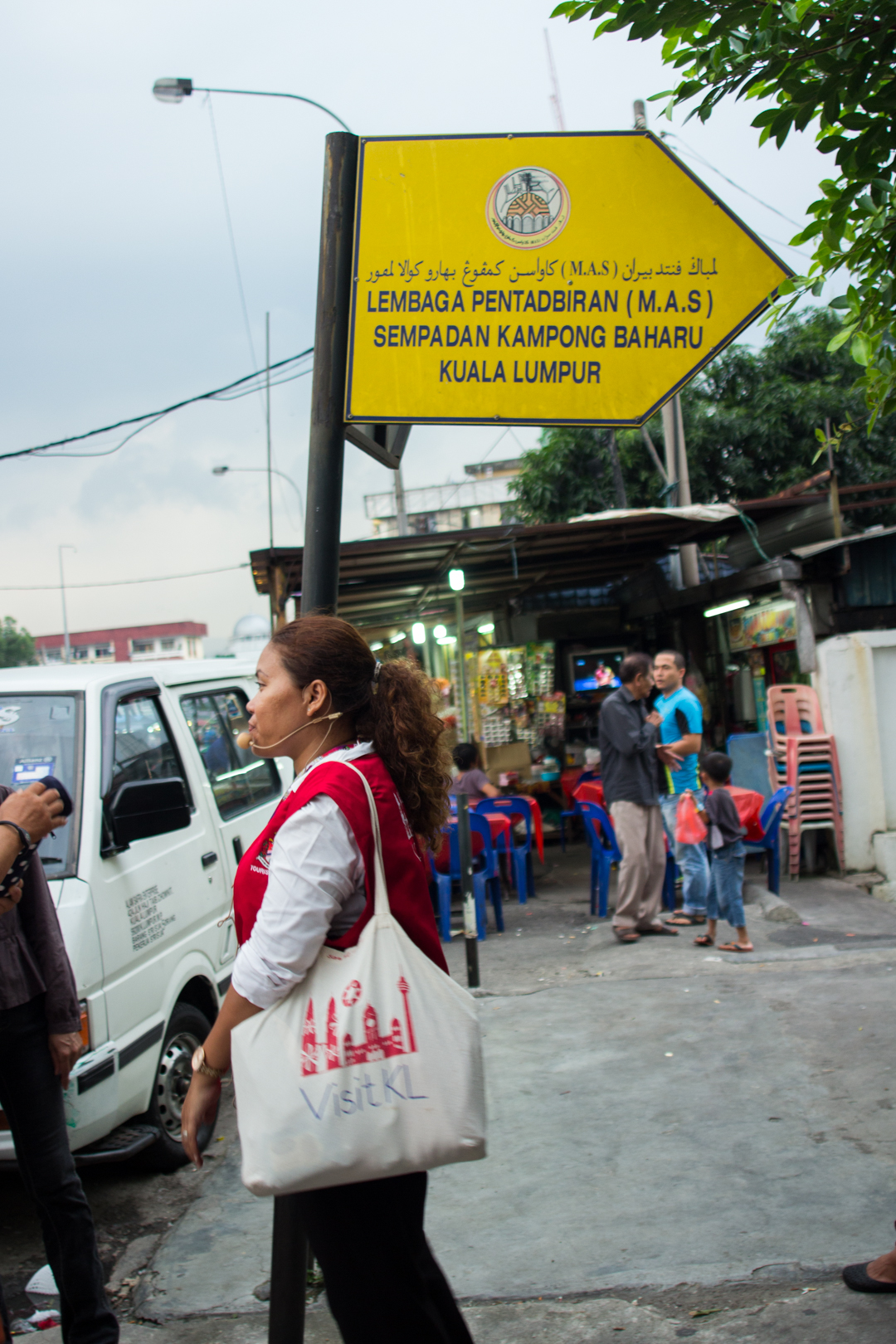 Actually the quarter is a village. In Malay Kampung Baru means "new village" and today 17.000 inhabitants live here.
The tour started in the late afternoon, it was hot. Our guide briefed us, told us what we will see and where we should take care.
The attendance is free. Kuala Lumpur came up with the idea for a tour like this to introduce tourists to the rich culture. Visitors often only come to KL to shop, dine or see the skyscrapers.
We passed local schools and came to traditional Malay houses which are standing on stilts. "For 115 years this is the way we build houses. They are made of wood. We wanted to be able to move with the complete house. The whole village was involved and was helping the families to move", explained our guide.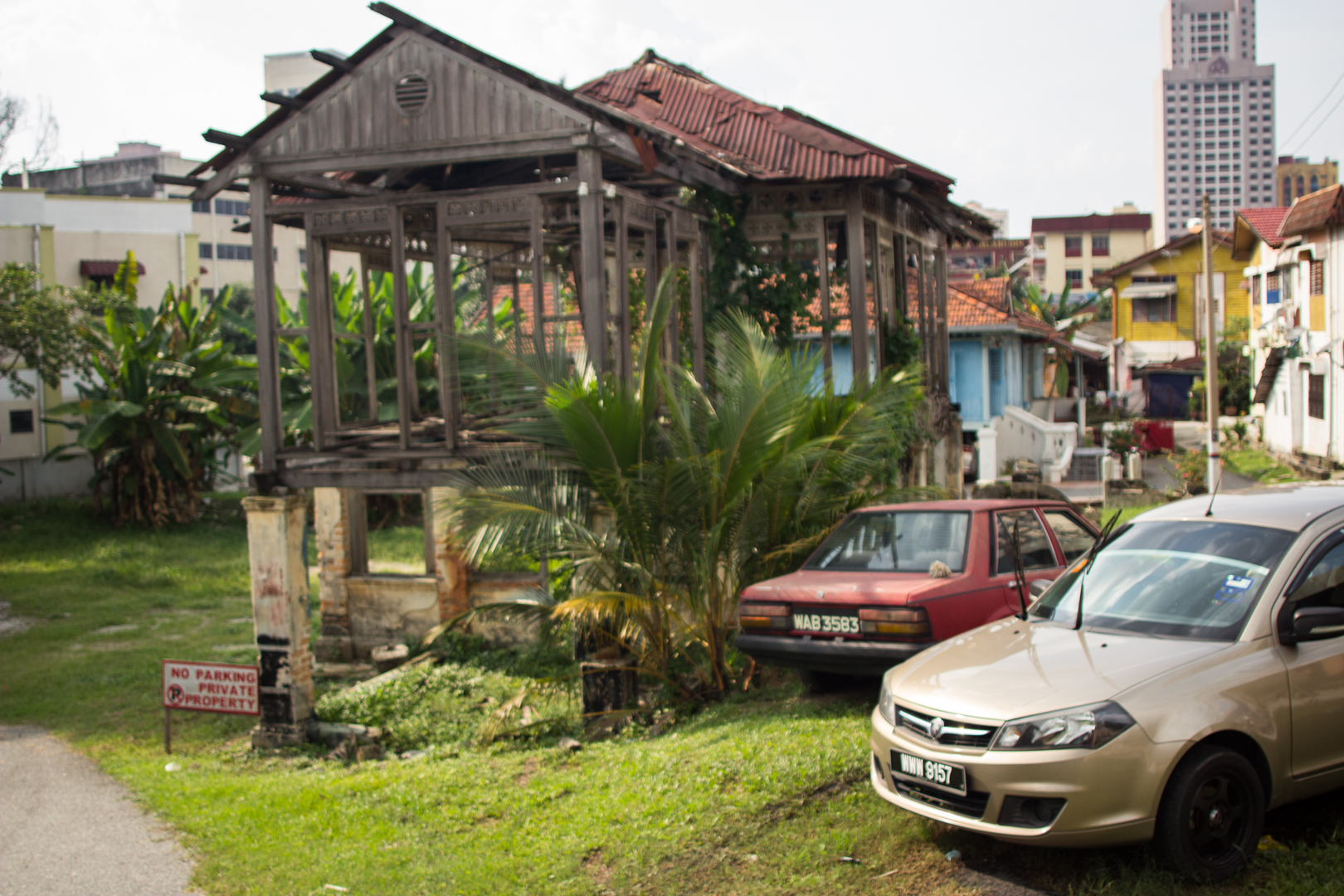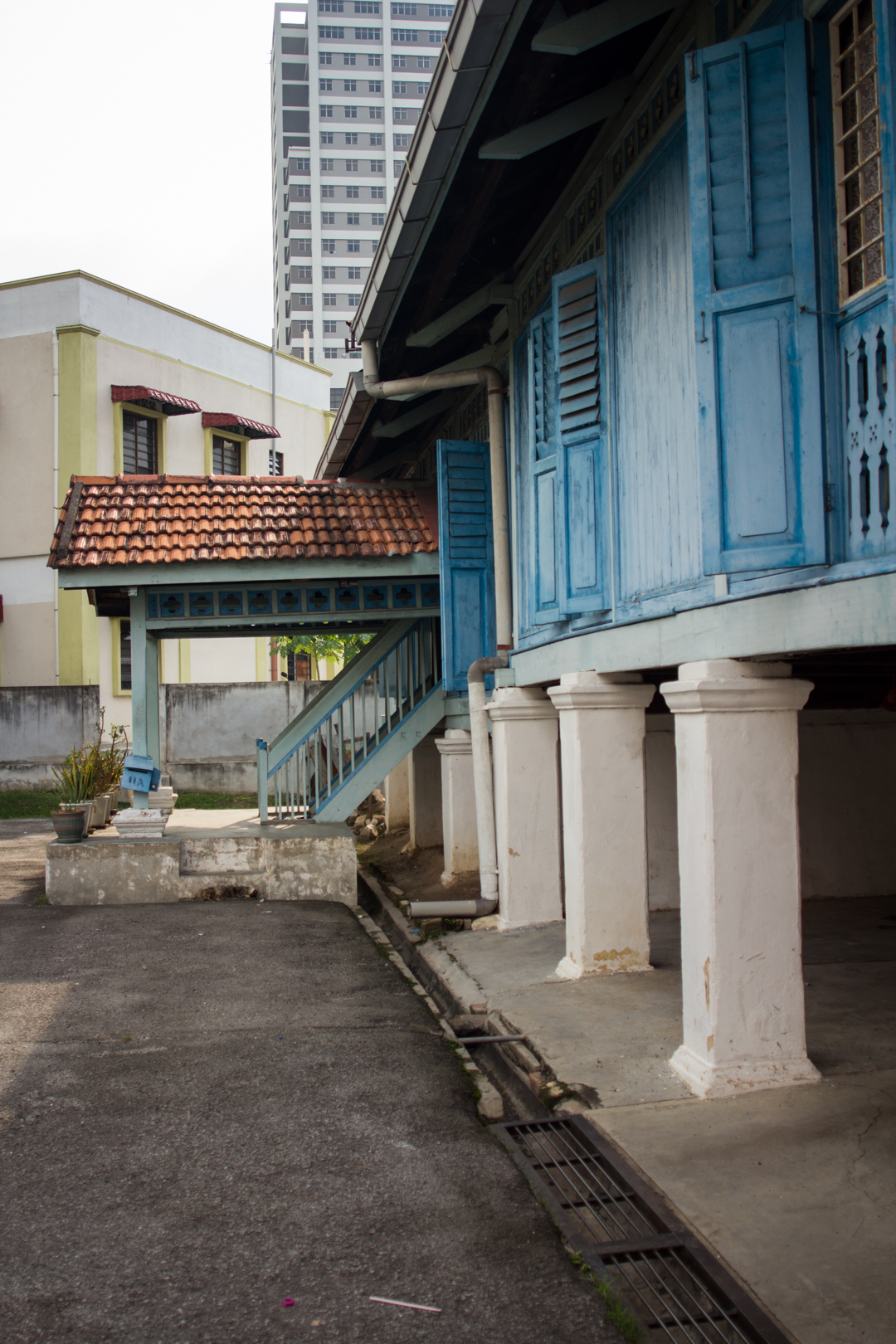 Kelab Sultan Suleiman Gallery
Next station was Kelab Sultan Suleiman Gallery.
It started to rain and we ran into the house. It got pretty dark "we have to hope the rain stops, otherwise we will not see anything". The gallery is in its original state which also means no light. Walls are covered with old photographs and you find notes of the Japanese occupancy. Torches guided us through the dark rooms.
Street Food
Off to the street food stands. Jalan Raja Musa is the street where most locals go to get tasty dishes. The atmosphere was brisk and colourful, people did not mind walking relaxed across the street, motorbikes found their ways through the crowd.
Everything was more familiar than the rest of the city. It felt canny. Maybe because I lived in Jakarta and life in Kampung Baru resembles Indonesia's. Culture and language are related. I even managed to order water.
Our guide ordered food for everyone to try "rice wrapped in a banana leaf tastes better, it gets this significant aroma". And it was spicy, but very tasty. We ate Nasi Lemak Antarabangsa and Kuih-Muih. Kuih-Muih was very sweet and absolutely nothing I would order again.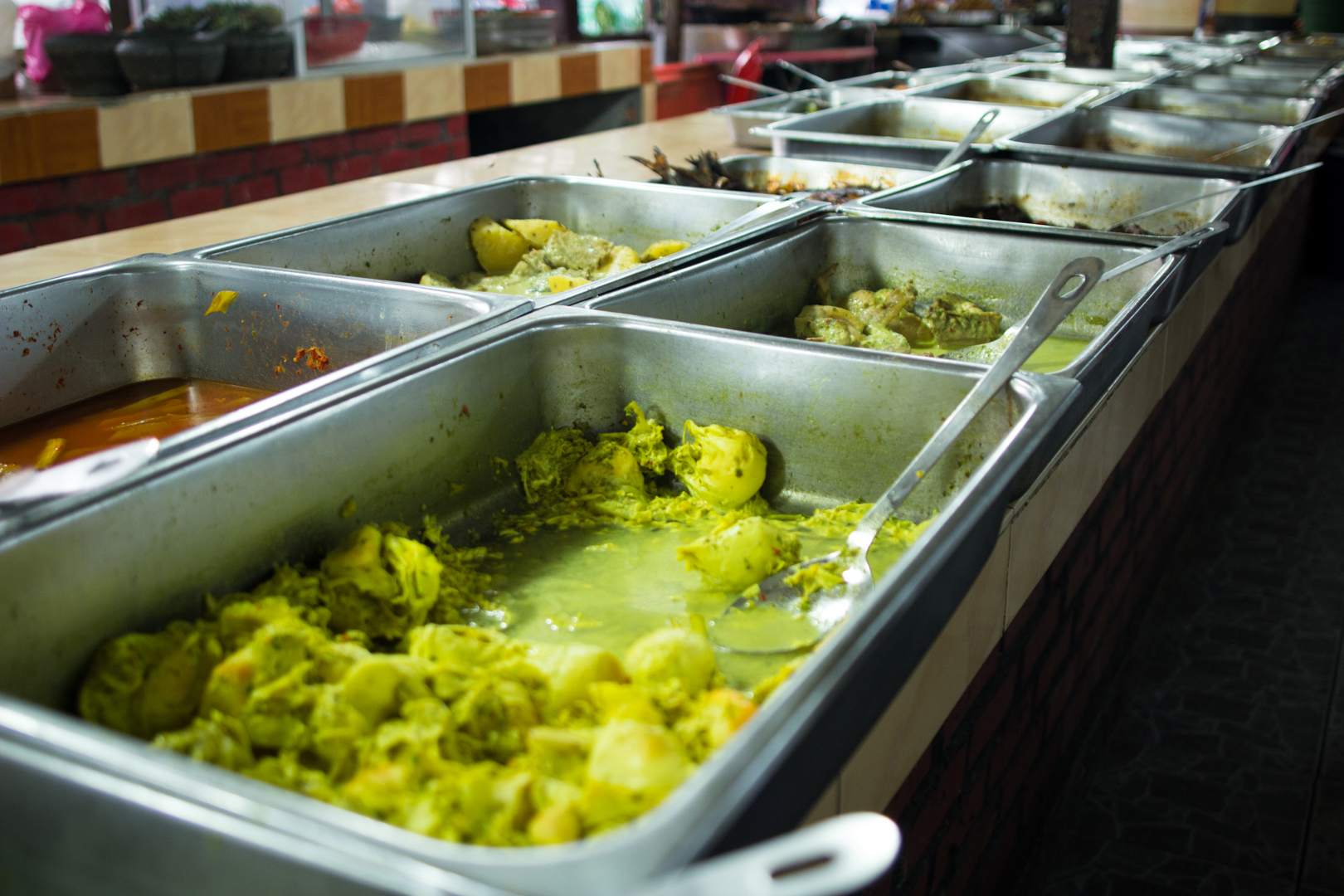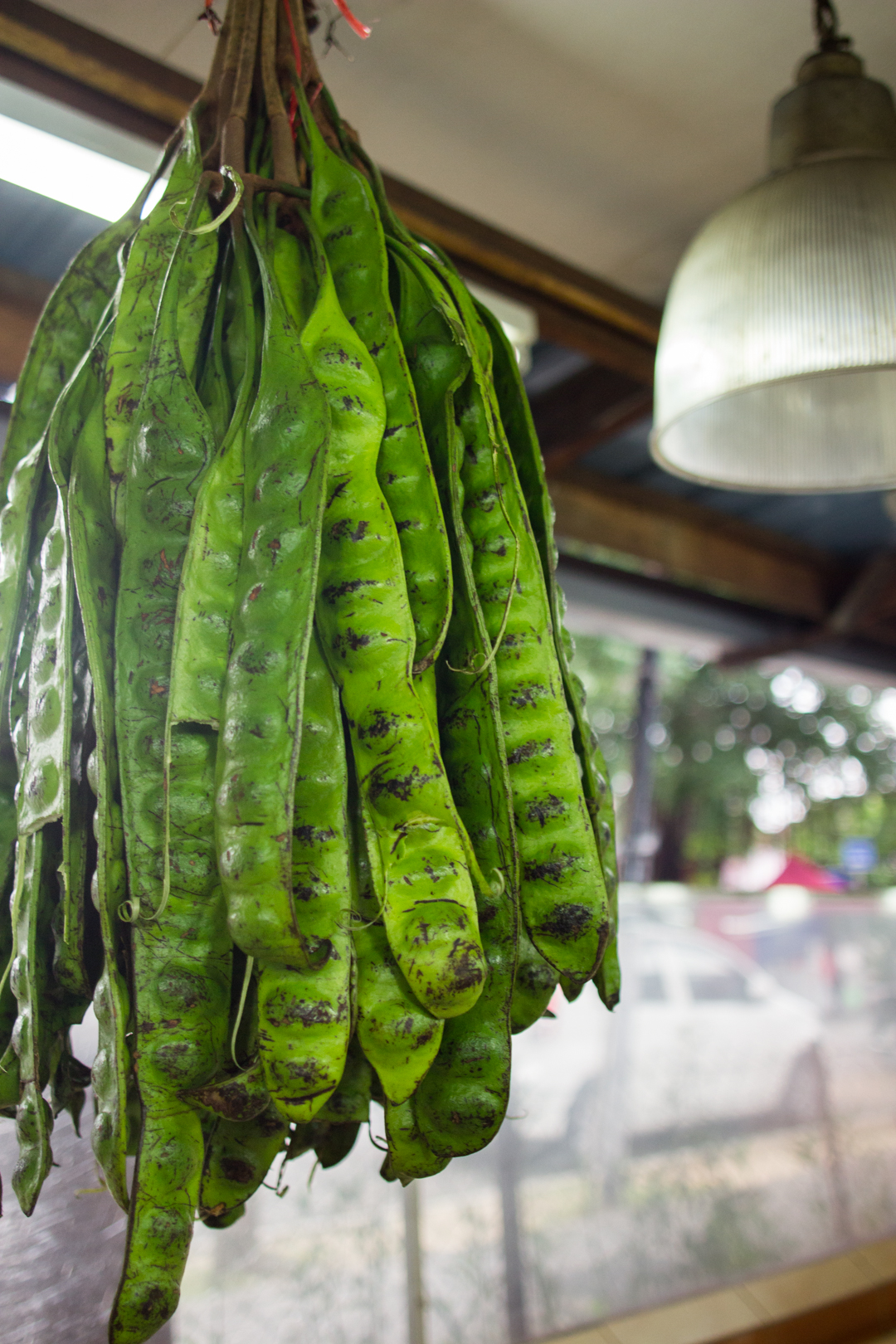 Traditional Houses
We stopped in front of a Rumah Limas, a house, which combines traditional architectural styles. It is colourful, has a beautiful wooden roof, and a perfect location. From this point you can see how central Kampung Baru actually is.
The location is also the problem because there is no monumental protection in Malaysia. People advocate and they have no plans of selling, but the offers get higher and higher. "There is one rich man in this village, he owns a few properties and he is so stubborn when it comes to selling. He wants to protect the heritage. As of late Kuala Lumpur supports the district financially. Not only to keep the traditions but also to persevere the buildings", said the guide.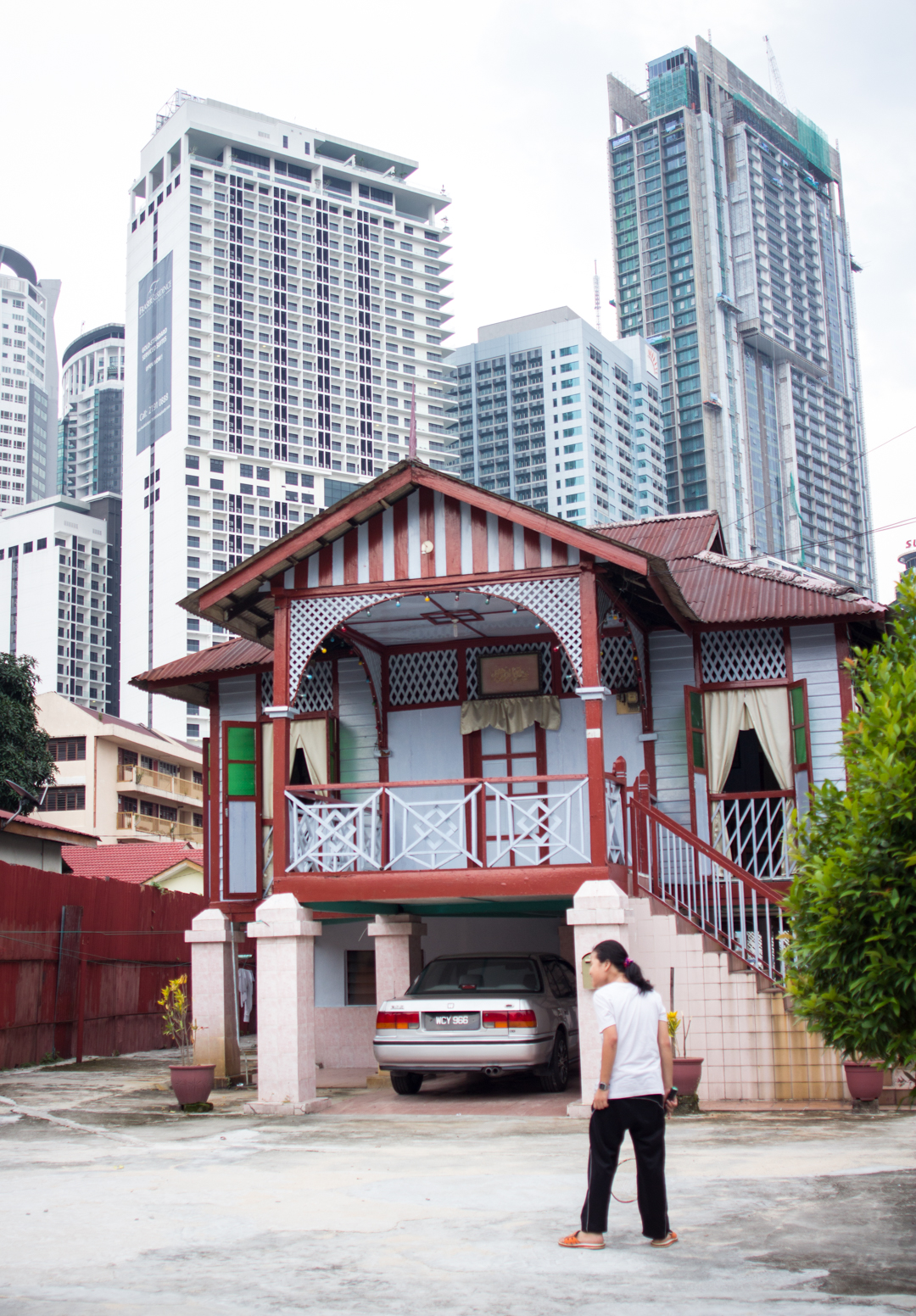 Markets
Markets are always a highlight of mine while travelling and the one in Kampung Baru was a heaven for foodies. It is packed with fruits, vegetables, and spices. Everyone invites you to try their goods and I couldn't resist those fresh rambutans. While peeling the fruit the vendor explained the name "Rambu is Bahasar and means hair, the ending Tan indicates the plural. Rambutan means nothing else than hair". If you take a closer look on the fruit you know why.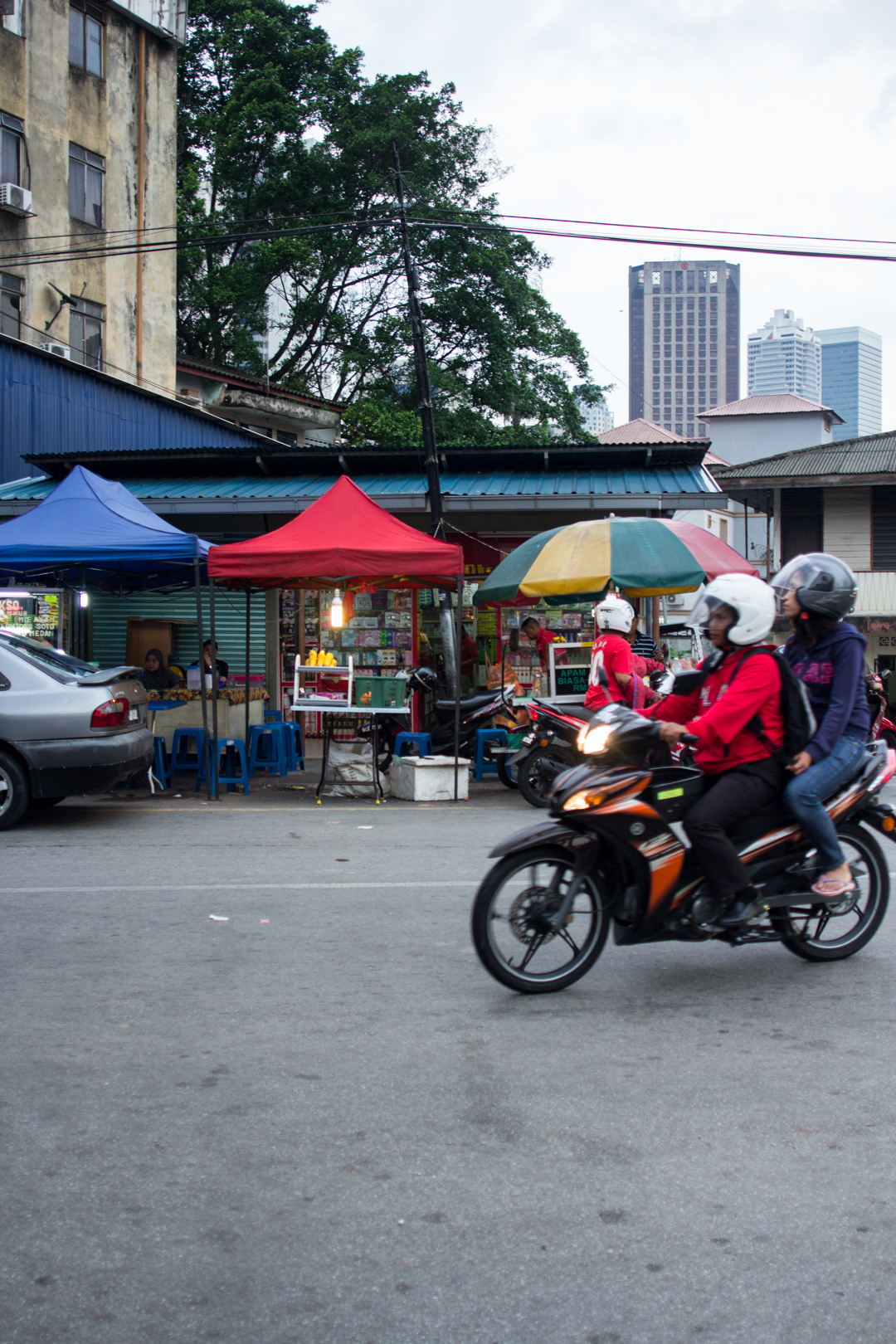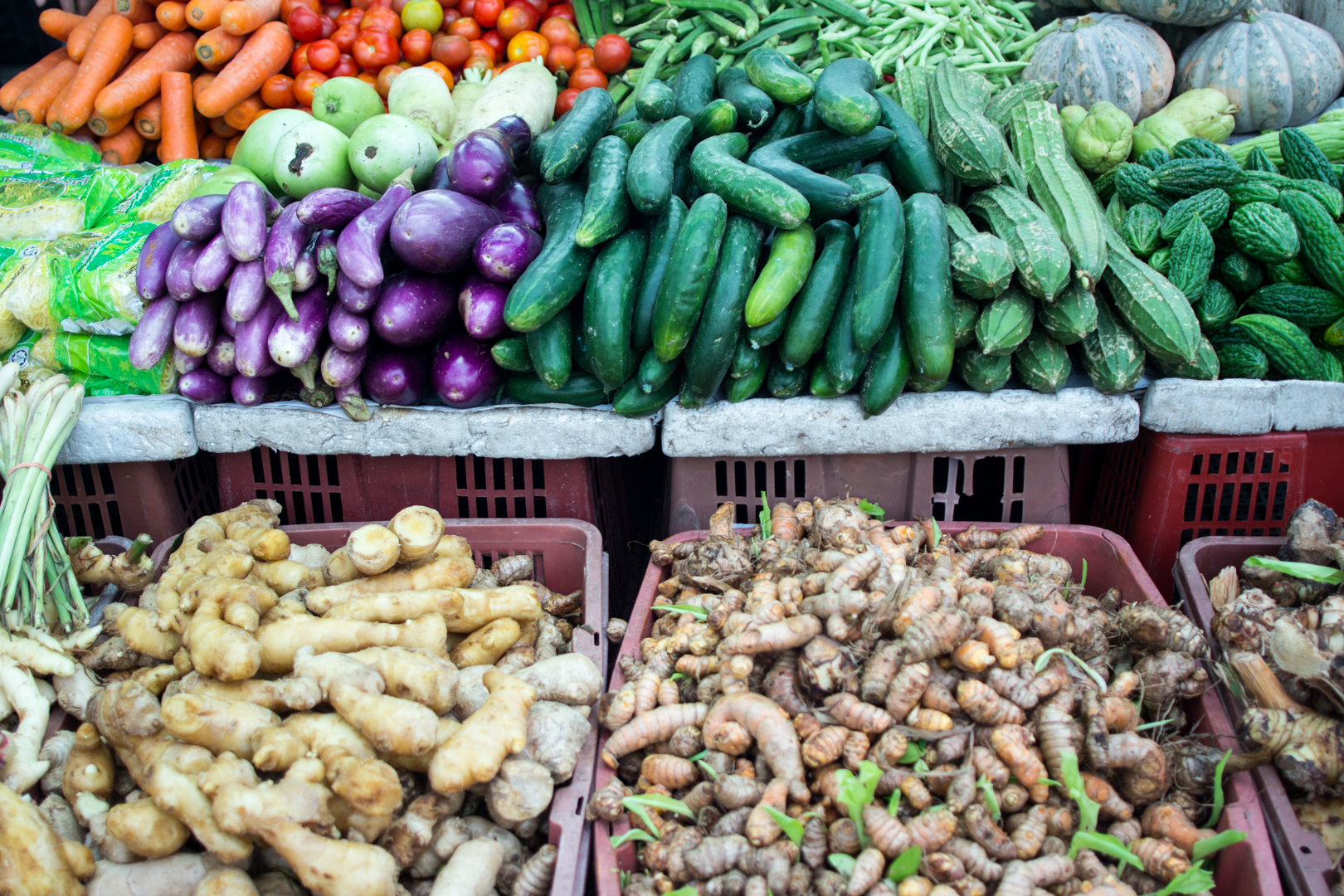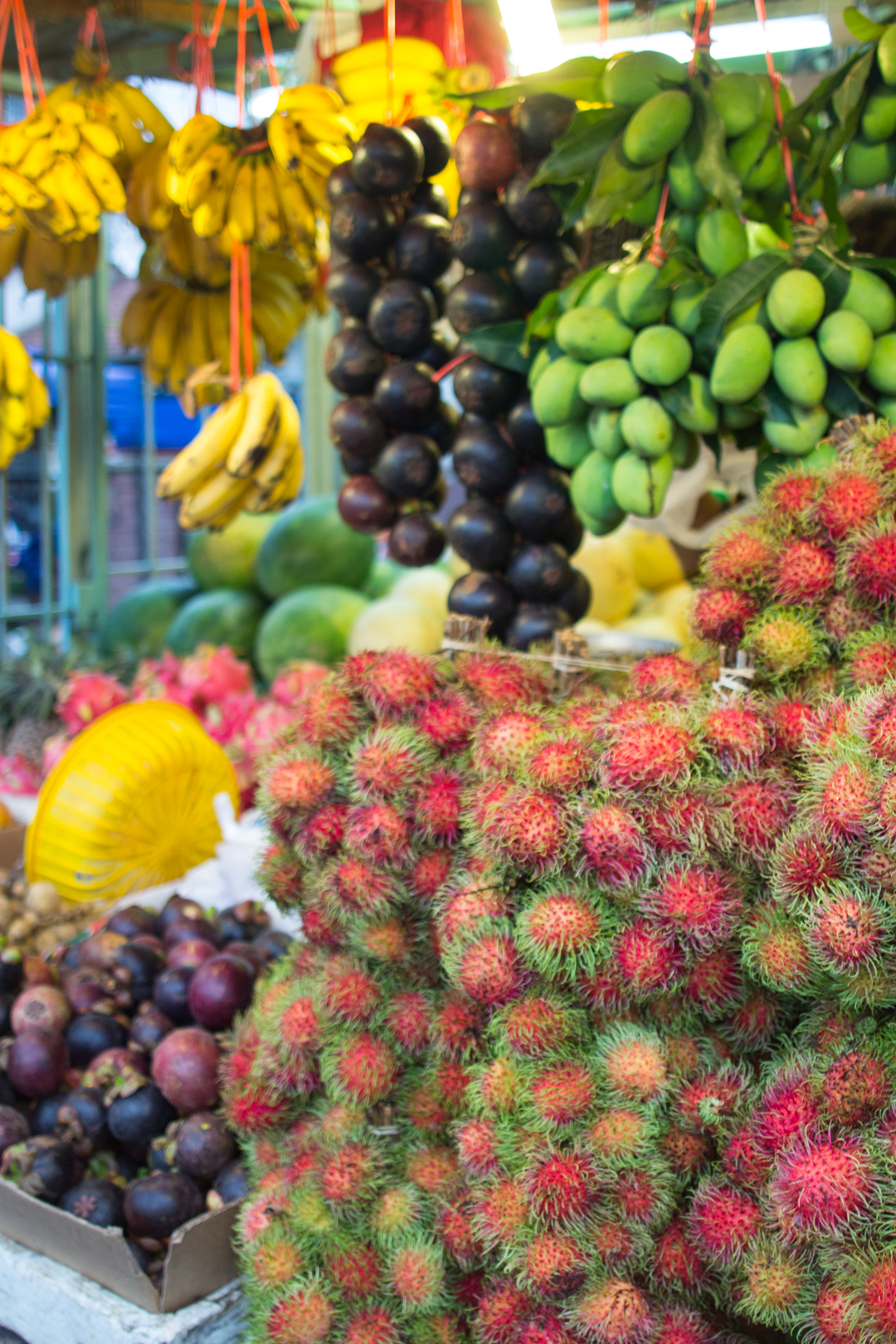 Muslim Life
Behind the mosaicked archway is the Mosque, an important part of the every day life of the community. During Ramadan Muslims break their fast here. Everyone gets a simple rice dish. People in need get clothes and other things they might need.
"Religion holds everything together", and life is heavily influenced by it "the hospital for example operates strictly within the Sharia", she added. They want to keep their traditions, the religious as well as the cultural ones. So a few years ago they even changed the street names "now they have their old names. Everything is Bahasa now".
That gives Kampung Baru a sort of island life. An island you reach within five minutes, even though it seems like a long journey. An island that takes care for itself, preserves their traditions and protects the inhabitants of "bad influences from the outer life".
Good to Know
Every Saturday evening from 6 p.m. to 1 a.m. there is a market Pasar Minggu. You get local products, delicious food and handmade goods.
Information
Sign up: pelancongan@dkbkl.gov.my send the mail at least one day earlier
When: every Tuesday, Thursday and Sunday at 4:30 p.m. come at least 15 minutes earlier
Where: Kelab Sultan Sulaiman, you will be greeted with a big smile
Price: for free, even the food is for free
Bring: something to drink, sunglasses and an umbrella, weather can be a bit Irish
Find Map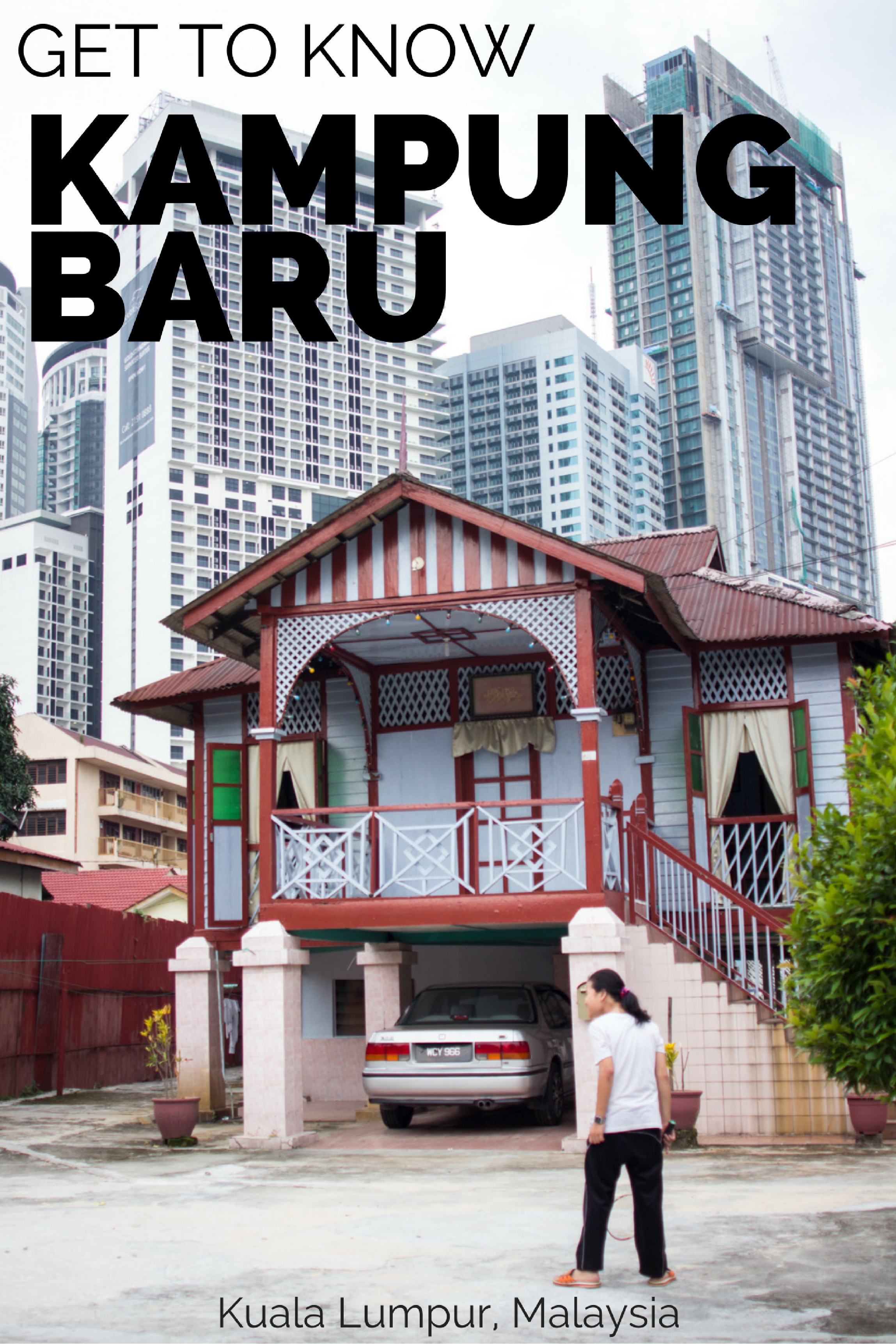 Have you participated in a tour like this? What was your favourite one?
Read more about Malaysia
GUIDE TO KUALA LUMPUR
TIPS FOR YOUR NEXT SHOPPING TRIP TO KUALA LUMPUR
KUALA LUMPUR CHINA TOWN
WHY YOU SHOULD VISIT KUALA LUMPUR
EVERYTHING YOU NEED TO KNOW BEFORE GOING TO KUALA LUMPUR